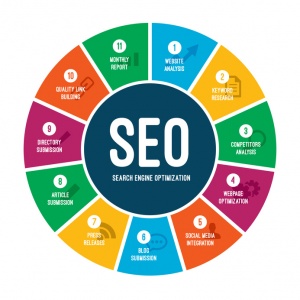 It is no secret that search engine optimization, also known as SEO, is crucial for any small business in order to boost its visibility online. A full 93% of online experiences begin with a search engine, so your number one goal as a small business owner is to get potential clients to click onto your site.
However, search engine optimization is a very complicated process and it can be hard to know if you are doing everything correctly. Here are some search engine marketing tips to make sure your website is found by those Google bots.
Have a comprehensive site audit
In simple terms, a site audit assesses the overall health and well-being of your website. An audit will let you know how easily your site can be found by a potential user, what keywords are missing or not ranking, and how you can optimize your website for better future results. During your site audit, make sure to evaluate your site and URL structure, inbound links, titles, and onsite content. Once these factors are in tiptop shape, you will be able to build upon your site a a whole.
Social media
One of Google's main goals is to find shareable content on your page; up-to-date video posts and blogs all add credibility to a website. It is also important to connect your social media profiles to your website not only for the ease of your clients, but to rank well within local SEO searches. Chances are if you Google the names of your competitors, you will find their social media profiles high among the first page of results. Search engines try to pinpoint as much information on these businesses as they can, so having a strong social media presence can improve your search result standings a couple notches.
Mobile optimization
Everyone has mobile devices nowadays, so it is more important than ever to ensure your website content is optimized for mobile use. More clients than ever will be searching for companies and making purchases online, so if your website is not optimized for mobile, you will undoubtedly lose potential customers.
While SEO can seem intimidating for a beginner, simply following these easy tips can help boost your credibility in the eyes of Google. For the best results, contact a professional search marketing firm to help.