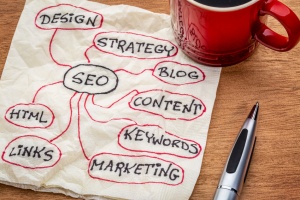 The simple truth is that your position on a search engine determines how many clicks you get, and eventually how much revenue you earn.
Here's a scary fact:
About 75% of users never even scroll past the second page of search results.
Luckily, there is a whole industry that finds strategies to boost your rankings. Search engine optimization uses knowledge of search engine algorithms to develop organic rankings SEO strategies using backlinks, quality website content, and even web design services.
These SEO strategies are constantly changing with every new update to the Google algorithm. If you want to get up to speed, here are some of the latest best practices among SEO companies:
1. Generate Powerful Backlinks
In SEO days gone by, search optimization experts would try to build as many links as possible to their website. Today, it's all about the quality of those links, meaning the authority of the website the link comes from. So how do SEO services try and build these links for clients? These link building strategies might include writing guest blogs for a large publication, doing interviews, and sharing your content with the people most likely to link to it on their own sites.
2. The Mobile Revolution Already Happened
This trend has been escalating for the past few years, and mobile-readiness is no longer an afterthought. People expect to be able to easily access any site on any device. They will be discouraged from exploring your site further if it loads poorly on smartphones or tablets.
If you don't have a mobile-responsive website already, then you're two steps behind the competition.
3. Move Your Site to HTTPS
The "S" in HTTPS stands for "security," and this indicates that your website is secure. Google, in particular, is in full support of this transition. Many SEO experts also believe that Google will give a rankings boost to more secure sites.
Of course, there are many other effective SEO strategies in use today. For instance, developing high-quality content has long been a mainstay of SEO, since it incorporates keywords seamlessly into your site and enriches a visitor's experience. Developing creative branding and marketing techniques can also help, since the more interesting and popular your site, the higher the chance that it will attract high quality links.
No matter what, it is important to stay in touch with the trends in the search engine marketing and optimization world. If you aren't prepared to pay close attention to the latest changes in the search ranking algorithms, contact Cyber-Construction instead.